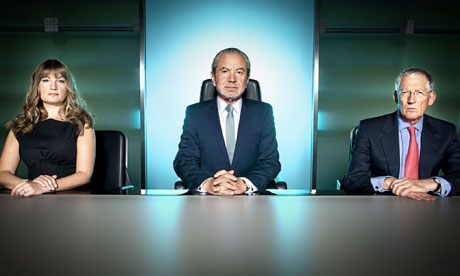 Go on, admit it. Who has been watching the latest series of The Apprentice? I have and I do have a couple of favourites who I believe could win; Chris Bates and Stella English. What a productive and intelligent couple.
Yet, whenever I watch The Apprentice I am struck at how bizarre some business approaches are. Often poor logic and insight cause the worst decisions. Not helped by the fact each contestant is concerned with their own survival which egotistically puts a strain on team work until the last few rounds.
I believe I could do better. Yes, I would probably make mistakes which the national would laugh at but I'm convinced I would have enough sense to survive the longevity of Lord Alan's business challenges.
It is quite moving that on Twitter @Holpols, @Hockey1989, @Hana_Louise, @TomMcGovern5, @Unrepentant_ and @bastet_grewpaws all think I should sign up for it. @MBlair22 has agreed he will sign up as well if I do.
The question is: Are the producers of The Apprentice looking for intelligent candidates or just individuals who will provide entertaining television?
Should I sign up for The Apprentice?
Have you ever signed up for it?
Next time receive an email when a post is published.